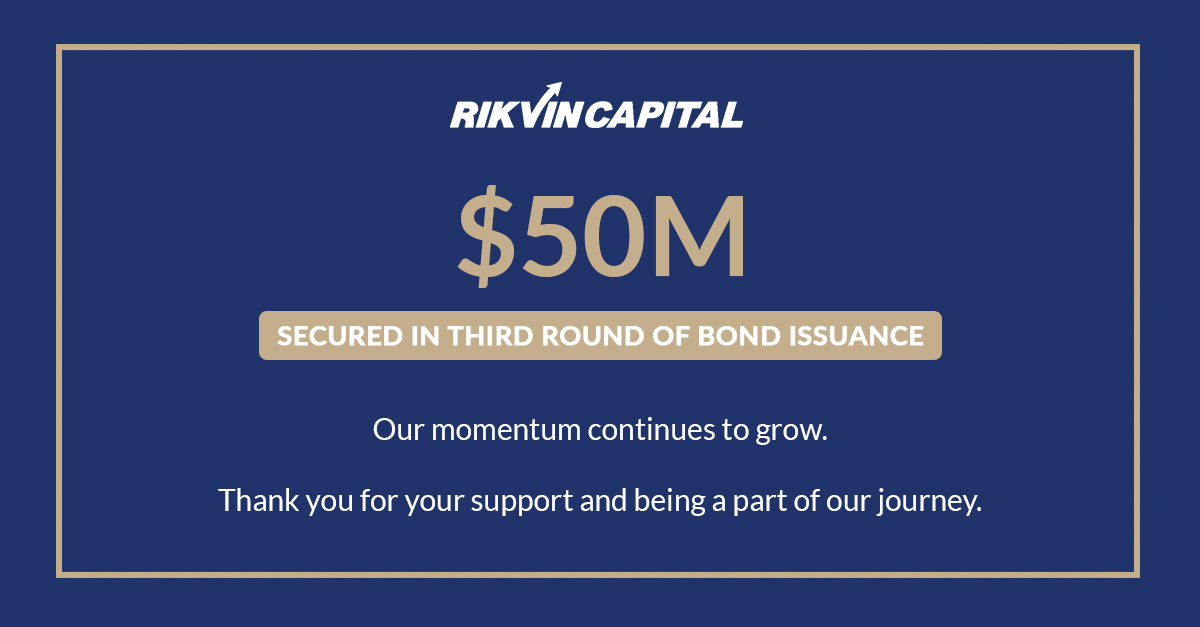 We are overjoyed to announce another monumental success at Rikvin Capital. Following our earlier accomplishments of amassing $100 million in the first round and $50 million in the second round of bond issuance, we have now successfully secured an additional $50 million in our third round, elevating our total capital raised through bond issuance to an astounding $200 million. This not only reflects our steadfast position in the financial domain but also reinforces the enduring trust and confidence our investors have in our fiscal strategies.
Perseverance and Trust as Cornerstones of Success
In a financial environment that is constantly transforming, Rikvin Capital remains steadfast in its mission to foster stability and growth. This latest bond issuance is a living testament to our unwavering commitment to delivering reliable, flexible, and high-quality financial solutions.
Catalyst for Expansion
The funds garnered from this third round of bond issuance are instrumental in bolstering our burgeoning bridge loan pipeline, which continues to exhibit remarkable growth. Our core emphasis stays on asset-backed lending against prime properties in the UK and Singapore. This coherent strategy underscores our dedication to facilitating bridge loans in these prime locales, aligning with our expansion narrative.
Financial Vigor and Tenacity
Our sustained success in bond issuance accentuates our financial robustness and resilience. Since our establishment, we have disbursed $500 million in bridge loans, and now with over $200 million already earmarked for lending in 2023 alone, we have surpassed our initial projections. This illustrious track record consolidates our standing as a dependable financial ally. "The continuous support from our investors echoes their trust and faith in our strategic foresight," articulates Rikhil Bakhda, Director at Rikvin Capital. Our trajectory of growth substantiates the confidence vested in us, and as we cross the $200 million mark, we reinforce our commitment to fostering enduring partnerships and financial solutions.
Heartfelt Appreciation
We extend our profound gratitude towards all our stakeholders, encompassing clients, partners, and investors. Your relentless support and trust have been the linchpin in attaining this significant milestone. With the augmented capital injection of $50 million, we are thrilled about the myriad opportunities that beckon. Our dedication to delivering unparalleled value to our clients, partners, and investors, while nurturing growth and stability in the financial sphere, remains resolute. With your sustained trust, we will keep building bridges towards a more affluent future.
At Rikvin Capital, we cherish our role as your trusted financial associate, and are invigorated by the prospects this additional capital unfurls. United, we will persist in offering financial solutions to High Net Worth Individuals (HNWI) and corporations, who, despite possessing valuable assets, might require financial backing due to liquidity constraints. Our resolve remains unshakeable as we chart the course towards a more prosperous financial horizon for our cherished clients.